Installation of Solar Street Lights in Some Villages Identified as badly damaged by Flash Floods in Uttarakhand – Joshimut Block
Devastating Flash Floods in Uttarakhand – A KSK Hyderabad Employees Initiative in providing street lights by their contribution
The disaster in Uttarakhand attracted attention nationwide. Though fully aware of the huge relief efforts being undertaken and contributions coming from through out the country, the staff of KSK decided to contribute one days wages towards providing some relief to the flood affected in Uttarakhand. The staff wanted that their contribution, though small, must make an impact. In this endeavor they sought the help of S3IDF, a voluntary organization of which the Chairman of KSK, Padmbhusan Mr.T.L.Sankar was the Director. Mr. Sankar sent Mr. N Md Shajahan to visit the site and ascertain the nature assistance that could be provided from Hyderabad. Mr. Shajahan was provided local guidance by M/s. THDC.
Members from S3IDF went on a tour of about one week meeting the affected families and sarpanchas of affected villages. The villagers had informed that they had been receiving sufficient quantities of food stuffs, blankets etc. but in the absence of power supply were living in the dark. A number of agencies had provided them with home lighting systems but one felt requirement was street lighting. Accordingly, a scheme for providing Solar Street Lighting in 9 remote villages was finalized. This enabled KSK employees to make a contribution by addressing a felt need of the villagers which till then had not been addressed by the large number of government as well as philanthropic agencies that were providing relief operations in the area.
In fact, the KSK contribution provided them with a facility that was not available even before calamity and the scheme was received with great enthusiastic by the entire village. In fact, the villagers offered to bear the full cost of transportation of the materials from the road point to their village and provide labour for installing the lights. Since, these villages are located 5-20 kms away from the road points, the equipment had to be carried on horse back to some villages.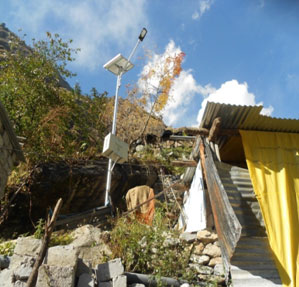 The scheme consisted of 40 solar street lights consisting of 4 meter height galvanized poles, 75 W Crystalline Silicon Panel, Exide Tubulor Battery and 12 W LED lights of high quality capable of withstanding extreme cold temperatures.
View the full report here: A Birds Eye View