Sewing Machines Motorized in ObulapuramVillage, Anantapur, Andhra Pradesh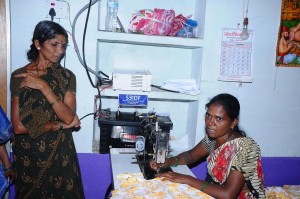 The village of Obulapuram for the last several years has become a nodal point for the stitching of inexpensive clothes especially nighties for ladies. At their request S3IDF through its technical partners especially Andromeda Pvt Ltd developed a small motor which can run the sewing machine by solar power. This has led to a large number of beneficiaries adopting this system in this particular village. The motorized sewing machines enabled the women and even the men tailors to increase their productivity by over 50%. The additional facilities of fan, lights and some even for TV has promoted the means of working in comfortable conditions. This adoption has reduced the drudgery of women and men in garment making. So far 80 nos. of garment making units have been solarized in the villages of Obulapuram, Pamidi, Rayadurg and other villages.
---
Weaving – Vadiampet Village, Anantapur, Andhra Pradesh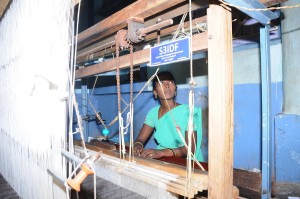 In Vadiampet village there are large numbers of weavers who use the traditional manual weaving equipment which by convention is set-up in a pit inside the house. The lighting is usually poor and the lack of fan makes them very un-comfortable, forcing them to stop the work frequently and go out for air. They started with solar powered systems which could supply power for 2 fans and 2 lights and many have now scaled-up their home lighting systems to accommodate a Television also. The weaver sitting in the comfort of a fan, a light over him and a TV in front of him, is a very happy man whose working hours have been extended and earning has also increased. Almost all the weavers are aspiring to have such system in each house in this village. Approximately 360 nos. weaving units have been solarized in the villages of Tadipatri, Uravakonda, Sanjeevapuram and Dharmavaram.
---
Agricultural efforts through solarization
Farmers with large forms and using drip irrigation systems are asking for solar PV systems to run small equipment used for such purposes. A beginning has been made already in 12 numbers of farms.
---
Solar lighting for diversified livelihoods at Mamillapalli, Anantapur, Andhra Pradesh
The special efforts of a crusader for solar energy like the Manager of Andhra Pragathi Grameena Bank viz. Mr. Kanakaraju has led to many of the small business enterprises in this big village like medical shops, cloth shops, tea stalls, dhabas, fruit vendors, kirana shops, electrical repair shop etc adopting solar home lighting systems of varying sizes to provide them light and comfort throughout the day. This was made possible by the bank making a special provision to include this solarization as a part of the production loan advanced by the bank. These efforts also have to a great extent resolved the problems of erratic power supply from the grid. The reliable and dependable solar power has raised their aspirations and future hopes to enjoy an improved standard of living due to increased productive hours and augmented incomes. Even very small enterprises like tea stalls have joined this "movement".