Promotion of Livelihoods
The "Solar technical knowhow" and RET devices made available at affordable prices by our partners has paved the way for use of solar power for promotion of livelihoods besides lighting.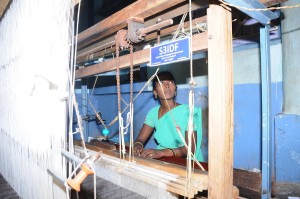 Solar power was provided from the plug to drive a small electric motor to serve several productive needs such as powering garment making machine, improving the lighting, comfort by running fans and entertainment from TV while working at weaving pit opened up the possibility to increase their productivity during power cuts and enabled their working time by 4 to 5 hours a day. This has helped them to augment their incomes and standard of living.
Electronic milk testing equipment in the milk procurement centre was also powered by solar which gives accurate computerized statement of litres of milk, fat content and price to the best satisfaction of milk vendor. The offices and other institutions which needed to use power driven equipment during morning hours now realized that they could directly tap the sun power for diverse productive uses. The fact that even where some power was available in the morning from the grid it was un-reliable enhanced the popularity of the scheme to use larger capacity panels for deriving adequate power for their comfort as well as commercial and livelihood uses.
---
Mahila Urja Centre "A Step Towards Self Sustainment"
S3IDF designed a project in very backward tribal area, "Towards Green Energy Janapd Panchayats in Chhattisgarh (TGEJP)" in Mohla Rajnandgaon district of Chhattisgarh. It aimed at deployment of energy efficient, renewable energy based devices and take up action towards empowering local women especially the poor in understanding linkages between carbon emitting actions relating to households, institutions and small enterprises. These include lighting devices, based on efficient solar standalone lighting (grid connected and off-grid), setting up of households PV power packages to provide reliable power supply to grid connected and un-electrified houses and deployment of more efficient cook stoves for households and institutions like schools for midday meals. It also includes replacement of grid connected street lighting with solar PV lighting and other activities to facilitate household ambience and educate children.
Access to financial capital is a pre-requisite to enterprise development and income generation. Entrepreneurial skills are essential in order to assist people to make use of market opportunities. There needs to be accessible markets for the goods and services offered. Realising this, S3IDF have organized training programmes for the members of Mahila Urja Centre. The centre has been provided training on entrepreneurial skills required for setting up a small business to sustain them as well as technical training in skills required for the deployment of Renewable Energy Technologies.